Vintage
Cars Collection
Vintage Cars collection
The collection includes a pre-1910 New Engine that belonged to Maharaja Bhagwat Sinhji which is a real beauty with its superbly crafted gas-operated lamp, curved glass windscreen and woodwork interiors of the coach. The Delage D8, Daimler, and the grand 1935 Mercedes seven-seat saloon are examples of supercharged European cars of the 1920s and '30s known for their superbly crafted bodywork and high performance. Stylish American cars in the collection include a 1935 Packard two-door convertible coupe, the 1930s Buick convertible and the 1935 Ford convertible. Imposing American cars of the 1940s and '50s include a 1941 Cadillac saloon, a 1947 Cadillac convertible, a 1947 Buick convertible, a 1947 Oldsmobile, the 1940s Studebaker convertible, the 1947 Lincoln V12, and the 1950s Cadillac Eldorado limousine. The Gonda! collect', also has post-WW2 jeeps, station wagons and pik-ups that have seen many a shikar in the 1940s and '50s.
The high-performance European cars of the late-1950s include the 1958 Mercedes 300SL two seat roadster, the 1959 Jaguar XK150 and other cars that Maharaja Jyotendra Sinhji and Maharajkumar Ghanadityasinhji raced to wins at many circuits. Also in the collection are muscle cars like the 1960s Chevolet Camaro and Surtees Formula 5000. Recent additions to the collection include the 1992 Corvette ZR1, the 1997 Chevrolet Camaro, the 1997 Buick Riviera, and a Dodge.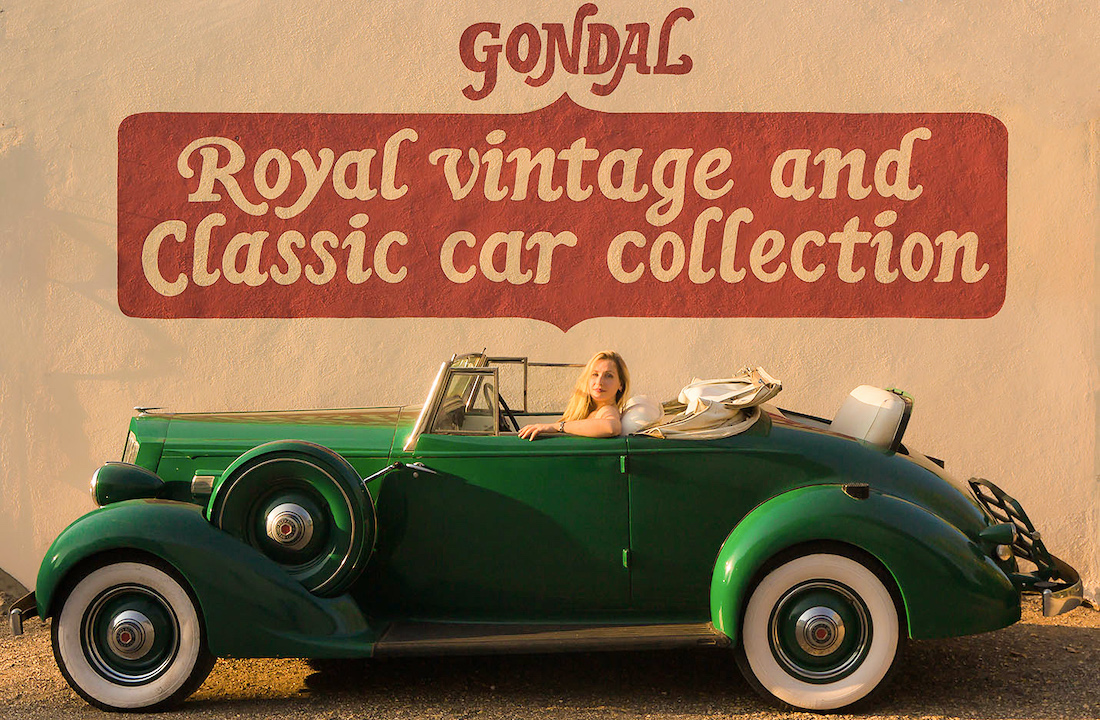 Gondal Palaces
Happy Customer

Pravin Dangera
06/06/2020
Royal Treat Really this is the perfect place for who is looking for ROYAL Treat during holidays ! you will be welcomed with garlands and juice made from the garden of this palace. very friendly staff always ready to help you at your doorstep. And the Royal food is the most enjoyable part, don't miss the food.

perfect This was a magnificent place to stay Clean, quiet, comfortable, roomy, and courteous staff We were given a double suite on the ground floor. Some interesting art around the foyer and in the room Also a wonderful old royal rail carriage open for inspection Not much more to say except ... highly recommended!
Lovely old palace and attentive host & staff Arrived after midnight due to delayed flight. Lovely large room (No. 7). Amenities as you would expect in an older style Indian palatial residence. Staff unfailingly helpful and food lovely (pre-booking of evening meal required). Access to town simple via auto rickshaw from hotel gardens gate. Typical Indian provincial town - great to just wander, get lost and explore ! Many thanks to owner Parth for helping with our travel plans. A lovely introduction to our Gujarat visit.
Slightly faded grandeur redolent of a bygone era This palace offers seven large rooms with an abundance of history. An added bonus is the maharaja's collection of vintage cars and the royal railway carriage on site. The staff are friendly and the food good but if you're staying for dinner, advance notice is required. There is a whiff of faded grandeur about the hotel but, all in all, a great place to stay in Gondal.
Interesting place We were given the super king sized bedroom, which was very comfortable. Would agree with previous comments about hospitality. Food was ok, but served by men in military type uniform. Strange! The Palace itself was filled with various mis matched collections from mainly UK. Gardens were newly planted with many colors of bougainvillea. There was very little in the immediate surrounding area. Transport definitely needed to get anywhere.

Nice old fashioned palace We enjoyed coming to this place. The house was grand in very large grounds. We enjoyed walking in the garden and enjoyed seeing the vintage car collection. The staff was extremely friendly and all the dogs round grounds were very cute. The room was very big as was the bathroom. There were faults there. The electric wiring was terrible and possibly dangerous. The lavatory was far too low. Some of the furniture in our room was broken. The food was first class.

Colonial luxury in Gondal A wonderful palace right in the centre of Gondal where the accommodation was mind blowingly large but very comfortable just a pity we could only enjoy it for one night. Staff helpful and friendly and we were well looked after. It is not a modern 5 star hotel and if that is what you are looking for this is not for you but we loved it for its faded colonial atmosphere and style with lovely seating areas at the front and back of the palace at both ground and first floor. A real colonial luxury.

Magnifique Beau palais de maharajah transformé en hôtel. Tout est parfait: l accueil, l endroit, le mobilier, le jardin, les terrasses, chambres spacieuses et raffinées. Juste un tout petit bémol: la plomberie de la salle de bains vieillotte donc eau chaude parcimonieuse... Les repas pris sur place furent excellents. Pour moi une expérience incontournable à Gondal .
Surprising lack of hospitality The place definitely has heritage charm and it is comfortable, but the almost complete lack of hospitality was shocking in India. I have visited India nine times and never felt so unwelcome in a hotel before. No explanation of the house, it's history, it's facilities, the fact that you can get into museums free if you are a guest here— In short, zero welcome. I felt like all they were concerned with was making money, and would rather not have anyone there at all.

Small town with lots to see We decided to stay in Gondal when I saw it described as a leafy small town! We stayed for 3 nights in the most sublime room imaginable. As part of our stay we were shown around the magnificent museum that was very well looked after .....a terrific collection of furniture, , carpets, teapots etc. Etc. We also wandered around a separate collection of classic cars mainly from the US.. along with this was terrific food and helpful staff.. Gondal also has superb temples and is only an hour away from Junagarh with more superb architecture and of course Girnar hill with it's 10,000 steps if you are feeling fit.......20 years since we completed that!